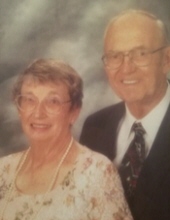 Obituary for Carolyn Webb Guymon
Carolyn Webb Guymon passed away from pneumonia on February 16, 2018 at the Blue Mountain Hospital in Blanding, Utah.

Carolyn was born on May 15th, 1935 to Earl and Deborah Webb in Idaho Falls, Idaho. Carolyn was the oldest of three children with one sister (Julia) and brother (Scott). She grew up in Logan, Utah; graduating from Logan High. After graduation, she began attending Utah State Agricultural College.

At Utah State she met Richard Duane Guymon. They were sealed for time and all eternity on Sept 14th, 1955 in the Logan LDS Temple. They were blessed with five children: Debbie, Kelly, Richard Brent, Suzanne and Donald. Richard and Carolyn made Blanding, Utah there home for over 62 years. Richard proceeded Carolyn in death on June 5, 2015. They were married for 59 years.

Carolyn taught hundreds of children to play piano for 30 years. Later in life she served as a recreational therapist at the Four Corners Care Center and San Juan Hospital.

She served in the Relief Society and Primary programs and helped support her three sons on LDS Church missions. Carolyn and Richard saved money and were able to assist their grandsons in their missionary service. Many friends were blessed with hot pads and afghans which Carolyn crocheted by hand.

Proceeded in death by her husband Richard, mother, father and brother Scott. She is survived by Debbie, Kelly, Richard Brent (Marsha), Suzanne (Boni) and Donald (Pamela), 14 grandchildren,13 great grandchildren, sister Julia.

A funeral for Carolyn will be held on February 23rd at 12 p.m. at the Blanding LDS Stake Center (88 W 800 N). A viewing will be held the evening before from 7- 8:30 p.m. and Friday from 10 to 11 a.m. at the Blanding Stake Center. Internment will follow at the Blanding Cemetery.

The family would like to thank Debbie for her service taking care of mother during her later years. The family would also like to thank the staff of the Blue Mountain Hospital for their care.
Previous Events
Visitation
Blanding LDS Stake Center
88 West 800 North
Blanding, UT 84511
Funeral
Blanding LDS Stake Center
88 West 800 North
Blanding, UT 84511
Interment
Blanding City Cemetery
500 North Grayson Parkway
Blanding, UT 84511